Bring in your lightly used hockey gear now! Helmets to skates and everything in between, we need it all!
While you are here, don't forget to check out our full hockey selection.
We need to keep the gear coming, but there are some items we do NOT accept:
Ripped/broken/cracked equipment
Equipment that is too old*
Equipment that exceedingly bad smelling, this means smoke, body odor, pet related, etc.
Some next to skin clothing. This means jocks and jills, base layer, and socks.
*In Canada hockey helmets do not expire. CSA stickers (left) are required in Canada but a HECC sticker (right) that may also be present on the helmet is only for the United States. The HECC sticker has an expiry date that, once passed, will make the helmet illegal for use in the United States but NOT in Canada. The expiry date is 6 ½ years from date of manufacturing.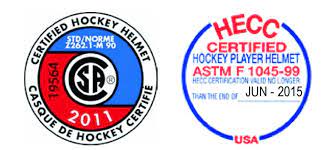 Any helmet with cracks, additional adhesives or other materials that may affect the integrity of the helmet ultimately void the CSA certification and/or manufacturer's warranty.